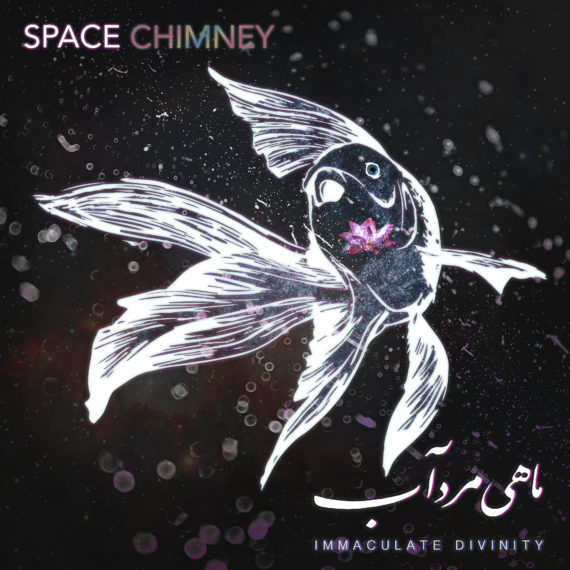 Press Release – May 23rd, 2020
"Breathe, just breathe."
We always put living on pause in fear of death. Running around like a hamster providing things, hoarding more elements of modern life advertised necessities without seeing life's true depth.
To learn something new, sometimes life plays the most wicked trick on you in order to teach it.
Mahi Mordab (Immaculate Divinity) is written from an experience beyond the end, the suspended dream state of a coma, recalling a voice that came through the dark. Frightened and pleading, "breathe, just breathe" – the message of Space Chimney's fourth single explores the fragile and imperceivable line between this world and the next. It combines an eclectic mixture of Farsi vocals, rock guitars, and pulsing electronic sounds that invites you into a world that you can feel (even if you can't understand the language).
In 2015 shortly before Ela and Justin had met, Ela was experimenting in technique used to achieve lucid dreaming. From the moment she would open her eyes, she would record her dreams into a notebook. This would help to cope with a past trauma and allow her to revalue her life, to appreciate the chances she had, and realize that the things worth living for are different than life's basic needs.
During the rehearsal of another Space Chimney song, Fatally Decomposing, Ela had begun to sing in Farsi over the arrangement. Justin saw the potential and began to track Ela's vocals, adding additional instrumentation to the original arrangement. Over the course of production Ela was reminded by the lyrics of the dreams she recorded. Going back and finding her book, she saw that she had written the same exact set of phrases. It was a surreal moment to be faced with the message she was trying to pass to her self all those years ago.
Mahi Mordab was written and released specifically for Nowruz (Persian New Year), on March 20th, 2020. The message of the song embodies the values of the holiday which celebrates the rebirth of nature in the spring, a reminder that the death of winter is not eternal.
Keeping with its Persian foundation, the music video for Mahi Mordab was filmed in Tehran, Iran in a collaborative online effort.
Space Chimney plays with their inner child assembling music like lego blocks, exploring linguistic elements and musical styles to satisfy their curiosity. Still in the end, the listener can experience something that seems relevant and familiar. Assembling the pieces but not building the same old chimney.
For more information or placement, please contact blastme@spacechimney.com.
Official Music Video: https://youtu.be/J5-_9T42qvg
Written by: Space Chimney
Mixed & Mastered by: Safe & Sound Studios (Brooklyn, NY)
Categorised in: Press Release