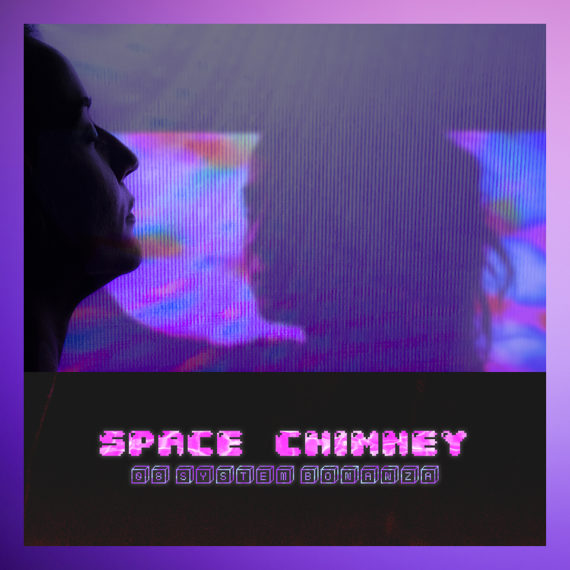 Press Release – January 19th, 2020

It wasn't the debut release they wanted, but it happened. Space Chimney wasn't the name they had planned for, but that happened as well…
For over ten years, member J had quietly saved up a band name in his back pocket – waiting for the right moment. In July 2019, the time came when he and his wife Ela went to the studio to record after many years of dreaming of the day to actually use it.
They completed their intended debut single "Work Me, Smoke You" in around three weeks, finding time to get into the studio around work schedules. Excited about the results, E had contacted an old friend and animator Mustafa Osanlooy to create a music video.
While they waited, J + E concocted an idea to make a "test band" to try out all the steps they would need in order to release the single and music video. It would serve the purpose of being able to experiment without consequence before executing under their real band name.
Space Chimney had been a name E suggested years ago when they first started dating. J had remembered it and reflected fondly upon its lack of any real meaning and childlike ingenuity.
J took to his computer one Sunday morning and churned out a full arrangement roughly mixed by the time he went to bed. After a few days of rapid production, the song was completed within a week from demo to master. This was the day Space Chimney was born – November 10th, 2019.
Alongside the production of 08 System Bonanza, J + E had worked on assembling a collection of their cellphone footage from over the years into a music video that represented a theme of movement and transition. This mirrored the emotions conveyed by the music, exploding with hyper-saturated colors and intricate image blending.
The following week involved buying a domain, building a website, designing merchandise, launching Instagram and Twitter handles, Soundcloud and Bandcamp pages, and lastly a Youtube channel (plus designing a logo and making artwork for all services). By November 22nd, 08 System Bonanza was released on www.spacechimney.com alongside its official music video.
During this time, something funny happened. The name that they had berated, insulted, and deemed "irresponsibly stupid" became something they both cherished. It was something that spoke to their personalities and desire to be unbound and free to create. In contrast to their intended name choice which carried a more serious tone (still being kept a secret) – Space Chimney undoubtedly proved itself to be more welcoming to the ears. A name that would remove expectations and care for tradition, reason and purpose.
That is the story behind Space Chimney and 08 System Bonanza.
Release date: November 22nd, 2019
Song Length: 3:33
Listen on Spotify
Watch on Youtube
Listen on Bandcamp
Categorised in: Press Release